Host an event your guests will never forget! We offer a truly unique ambiance, a friendly & professional staff, plus food & drink options to fit your event objective and budget.
Our Spaces
A variety of spaces and layouts can accommodate groups from 10 - 140 guests. Our Mezzanine & Speakeasy are perfect for more intimate gatherings or book our entire venue for larger groups.

You can even add on a distillery tour for a truly memorable event!
Event Menus
We offer a number of menu options to satisfy all types of groups and budgets. Our talented chef and event staff create dazzling presentations that make for truly memorable events.
Choose from appetizer, buffet or plated options.
Drinks!
From delicious cocktails made from our own locally crafted spirits to a wide selection of beer, wine and non-alcoholic beverages, we've got you covered.
Hosted or non-hosted, simplified or full drink menu, we've got options to fit any group needs.
Event Spaces
- The Speakeasy: 10 to 20 people
Located on the Mezzanine level of Penny Farthing Bar & Restaurant, the Speakeasy boasts a sophisticated and relaxing atmosphere to welcome private events. With the ability to customize the floor plan to fit your party's needs, this is a beautiful space for small to mid-sized gatherings.
- Comfortable couches and adjustable, hand-crafted tables
- 80" screen and surround sound
- View into the distillery's production space
- Private restroom
- The Mezzanine + Speakeasy: 10 to 50 people
These two spaces together provide flexibility, diversity and additional room for your group. With a private bar in the Mezzanine that overlooks the restaurant and distillery production area plus the quieter speakeasy-style back room, guests can effortlessly mingle between the two spaces.
- Venue Buyout: Up to 140 people
For groups larger than 50 guests, or for those wanting more space to enjoy table service, full-venue rentals are available. Your guests can explore the entire venue or just book the main dining floor of Penny Farthing, we'll do our best to accommodate your specific group needs.
- Distillery Tour Add-on
Private distillery tours provide guests with a behind-the-scenes look at how we make our craft spirits. Groups of up to 20 people per tour can walk through our production area, still pit and barrel room lead by our experienced guides who will answer any questions along the way. Tours are typically 20 - 30 minutes and can be adjusted to fit your specific group needs.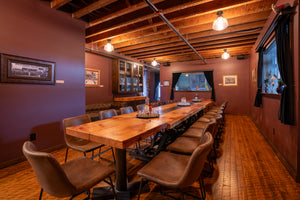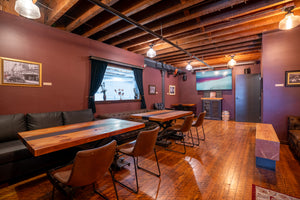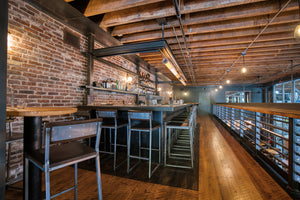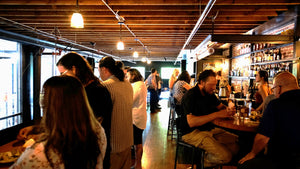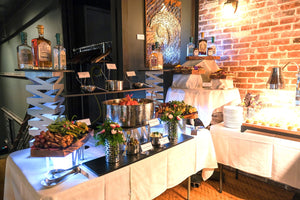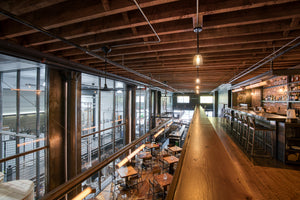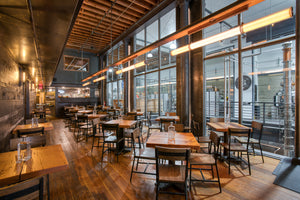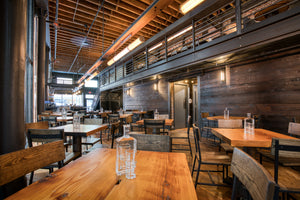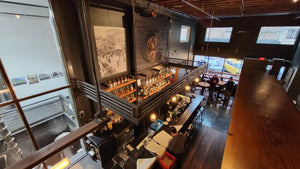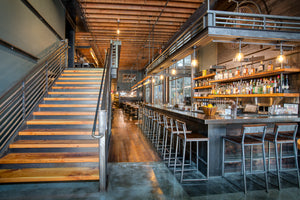 Event Menu Options
Food and beverage packages can be customized to fit your needs. We offer 4 different dining options to choose from, menus for each can be found below.
- Penny Farthing Menu: Priced per plate and can be served as individual plates, buffet style, or appetizer size. Each plate serves 2 - 3 people. 
- Little Italy Menu: $35 per person, an affordable buffet full of classic Italian favorites; includes soup, salad, pasta, entree and dessert.
- Streets of Florence Menu: $55 per person, a more extensive Italian-themed buffet offering soup, salad, two entrees, side dishes, and dessert.
- By Design Menu: - $65 per person, presented as a buffet or as appetizers; choose 5 entree items from an elaborate menu that guests can enjoy in unlimited quantity throughout the event.
* Pre-orders of food and beverage packages are needed 14 days ahead of the event date in order to allow our staff to properly prepare the beautiful displays for your guest's enjoyment.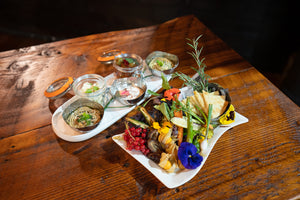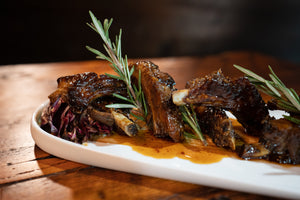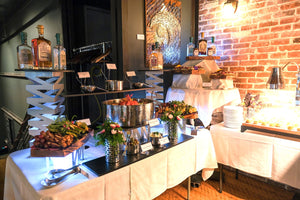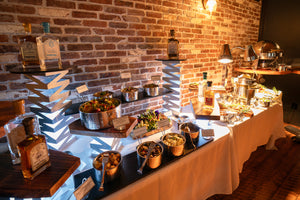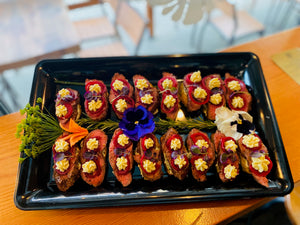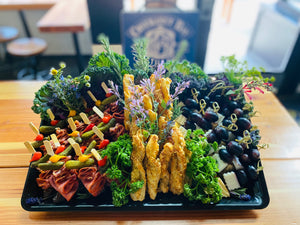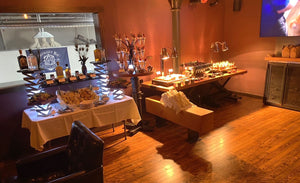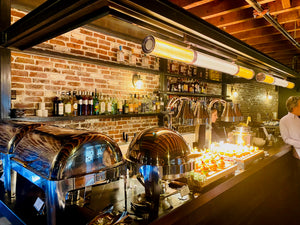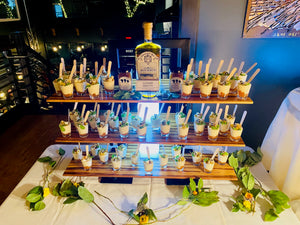 Beverage Options
We offer both Hosted and Non-Hosted beverage options:
- Unlimited Bar:  $40 per person which covers all spirits available on our shelf as well as any beverage on or beyond our Penny Farthing cocktail menu.
- Open Bar: Priced per drink ordered from the full Penny Farthing beverage menu.
- Drink Tickets: $10 per ticket, wherein a specified number of tickets for each guest are hosted from a smaller, select beverage menu focusing on our Chuckanut Bay Distillery well spirits, beer, wine & non-alcoholic beverages.
- Non-Hosted Bar: Guests order from the full Penny Farthing beverage menu and pay their own tabs directly.
* While no limit on the number of drinks per person, per Washington state law we reserve the right to stop service to any guests that appear visibly intoxicated by event staff.