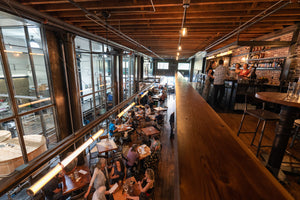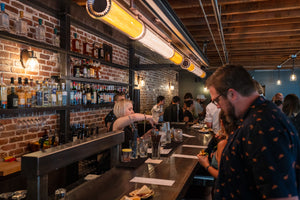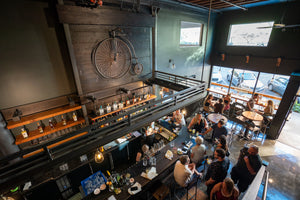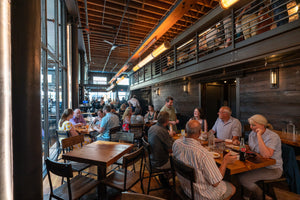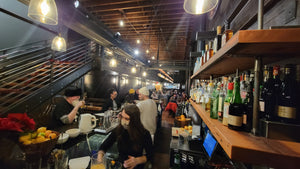 Penny Farthing Bar & Restaurant
All ages welcome! Featuring delicious shareable plates and creative craft cocktails along with a full bar, Penny Farthing is the perfect downtown Bellingham destination for any occasion. Penny Farthing's menu is designed to tantalize the senses, taking advantage of the freshest local ingredients and the two Wood Stone ovens that anchor our kitchen.
Penny Farthing also boasts a full bar staffed by some of the most talented mixologists in the PNW. Come by to try a Penny Farthing original or two, as well as our innovative interpretations of old classics. We offer an extensive wine, beer, and cider menu as well.
Please note, Penny Farthing reservations only accepted for parties of 5 or more, to make a reservation please call (360) 738-7179.
What is a Penny Farthing, You Ask?
The Penny Farthing is the name of our Bar and Restaurant at Chuckanut Bay Distillery, featuring our own craft spirits and cocktails, along with delicious shareable plates. Our bar's name pays tribute to that oversized and oddly shaped bicycle (known as a "penny farthing") of the late 18th century. We selected Penny Farthing as our name due to the recurring motif both bicycles and history have played in our distillery's origins – an apt metaphor, if you will.
Our first spirit here at Chuckanut Bay Distillery, a potato vodka, was made using an apple grinder connected to a bicycle frame. That human-powered setup was used to grind over 13,000 pounds of Yukon Golds and win a New York Spirits Competition Double Gold Medal. You can still see the bicycle on display in our tasting room. 
For us, the Penny Farthing also represents innovation; it was the first machine to ever be called a bicycle. We, too, strive to innovate. We're the first tenants to occupy this entire historic building since 1960 when JC Penney's moved across the street. 
The Penny Farthing bicycle was made by hand from wood and carbon steel – a celebration of raw materials. And like its namesake, our bar was painstakingly built from large pieces of old growth timber and chunks of metal reclaimed from the original building. 
Riding a Penny Farthing wasn't for the faint of heart. It took conviction and bravery – much like our renovation of this century old building, two-thirds of which sat unused and neglected for over 50 years.
At the end of the day, to ride a penny farthing was to be truly in touch with every nuance of your journey. Nicknamed the "bone shaker,"  the rider was directly connected to the road, feeling every bump and dip along the way. We can relate to this as our distillery process is analogous. We don't use secondary devices to make decisions about our distilled spirits. It's only through direct interaction with each process that they come into being. Touch, smell, and finally taste dictate our craft, helping us to achieve the finished product we enjoy serving you here in our bar. We think it's wonderful that this old building is once again filled with life and jollity, and for that, we're so glad you're here.
Dining Menus - All Ages Welcome!