Our Space
Located in a historic 18,000 square foot building in the heart of beautiful downtown Bellingham, WA featuring a large scale production facility, tasting room, restaurant & bar with a large event venue opening early in 2023.
Penny Farthing Bar & Restaurant
Our Story
Chuckanut Bay Distillery began in 2011, the brainchild of Matt Howell and Kelly Andrews, longtime friends who share a passion for premium distilled spirits and challenging projects. After identifying a downtown Bellingham location, we set about obtaining the necessary federal, state, and local permits, building out the space, and procuring the necessary equipment. Two long years later, in late 2013, we debuted our first spirit, a potato vodka made from Skagit Valley grown Yukon Gold potatoes.
We didn't have an electric grinder at that time, nor could we afford one. So Matt connected a bicycle frame to Kelly's old apple grinder and proceeded to grind down over 13,000 pounds of potatoes. His pedaling efforts were rewarded with a double gold medal from the New York International Spirits competition. We've since retired the bicycle grinder (much to Matt's relief), but you can see it if you come take the distillery tour.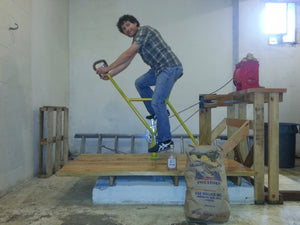 Since then, we've broadened our spirit selection, won national and international awards, moved into a beautiful new space and enjoyed ourselves immensely throughout the process. We're proud to count ourselves among the growing number of pioneering Washington craft distilleries.